MicroVision (NASDAQ:MVIS) stock has popped nearly 100% in the last five trading days, mainly due to Reddit-induced frenzy.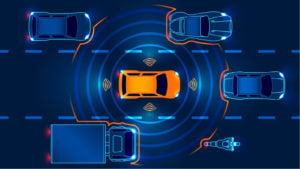 The company, which is focused on developing a lidar sensor for automotive safety and autonomous driving applications, has had an astounding year. The stock is up more than 7,000% in the last 365 days, and the momentum shows no signs of stopping.
However, I will advocate against adding MVIS stock to your portfolio at this time. Its momentum is mainly because of Reddit's r/WallStreetBets forum.
There is nothing in the fundamentals to suggest that this company merits attention. It's certainly involved in an exciting niche. However, that alone is not enough to justify such an explosive rise.
In the fourth quarter, sales fell 91.4% sequentially. For the year, the top-line fell by 63.7%. Overall, in the past 15 years, the company hasn't cleared $20 million in annual revenues.
In the second quarter of 2020, there was actually a possibility that management was looking to could sell off the business. MicroVision did not make any product revenues in Q4 2020 and reported zero inventory on its balance sheet in the 2020 fiscal year.
Against this dismal backdrop, one has to hand it to Reddit, which has given the company a new lease on life.
However, this company has been around since 1993 and does not have any commercial business to boast since that time. Under these circumstances, the only thing that will keep you interested in the short interest and the WallStreetBets forum.
Other than that, there is no long-term story here.
MVIS Will Lose Steam
In many ways, MVIS is the classic meme stock. It does not have a great operating model, virtually no sales, and a large percentage of its float is shorted.
This is the same story we saw with other WSB favorites like GameStop (NYSE:GME) and AMC Entertainment (NYSE:AMC). All of these companies have taken this opportunity to recalibrate and focus their attention on raising cash.
MicroVision is no different. Most recently, the lidar technology company launched a $50 million at-the-market equity offering. Before that, in December, MicroVision launched an offering of $13 million of stock.
Overall, outstanding shares have increased from 128.1 million to 157.3 million. Stock dilution is not necessarily bad. It gives a company the necessary funds to expand and sustain its operations. But existing shareholders understandably dislike it because it reduced their ownership stake without them trading any stock.
One should also remember that the company operates within a capital-intensive industry that requires a lot of spending on R&D spending.
So, raising finance will continue to be a headache for the foreseeable future.
The Smart Money Is Not Biting
Another reason most value investors are skeptical when investing in MicroVision is that, unlike  Luminar (NASDAQ:LAZR), Velodyne (NASDAQ:VLDR) and Veoneer (NYSE:VNE), the company does not have a relationship with any major legacy manufacturer.
The lack of solid relationships keeps institutional investors away. They represent less than 15% of the company's outstanding share capital, while insiders have less than a 1% stake.
Basically, even if the markets like MicroVision's new LiDAR vision product sample, it still needs to find a manufacturing partner to scale production.
The company also needs to ink a deal with one of the major automakers to distribute its technology.
Unless this happens, the stock will remain a gamble. The recent rally was a short squeeze, plain and simple, with nothing to do with fundamentals. As we have already seen, the company is not making revenue from licensing its products and collecting royalty fees from sales.
Time to Disembark
As I write this, MVIS stock trades at 700.84 times forward price-to-sales, a valuation completely divorced from fundamentals.
However, I also know that the company is all set to finally present its 4D LiDAR technology and produce A-Samples soon, making a short-term rally imminent.
Still, MicroVision has been in business for more than two decades but has developed nothing scalable.  So far, we have a CGI video that shows how its technology will function in real life.
Hence, once the announcement is made, I suggest you take profits and invest your hard-earned capital elsewhere. There is no upside in this one.
In fact, you stand to get burned quite badly if you remain invested.
On the date of publication, Faizan Farooque did not have (either directly or indirectly) any positions in the securities mentioned in this article. 
Faizan Farooque is a contributing author for InvestorPlace.com and numerous other financial sites. Faizan has several years of experience analyzing the stock market and was a former data journalist at S&P Global Market Intelligence.